(Card Effects are Unconfirmed)
CARD 1:
Dragoascension the Supreme Dragon of the Heavens
Light
Dragon/Synchro/Effect
Lvl 10
1 Tuner + 1 or more non-Tuner monsters
ATK: ? / DEF: 3000
Effect:
When this card is Synchro Summoned: This card gains 1000 ATK for each card in your hand. If this card on the field is destroyed by an opponent's card and sent to the Graveyard while all the Synchro Material Monsters used for its Synchro Summon are in your Graveyard: You can Special Summon them. Their effects are negated, also... (rest effect unknown).
CARD 2:
Number 48: Shadow Lich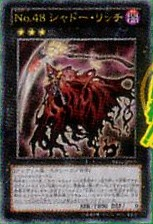 DARK
Zombie/Xyz/Effect
Rank 3
1800/0000
2 lvl 3 Monsters
Effect:
Once per turn, during your opponent's turn: You can detach 1 Xyz Material from this card; Special Summon ? "Phantom Tokens" (DARK/Fiend-Type/Level 3/ATK 500/DEF 500). While you control a "Phantom Token", this card cannot be targeted for an attack. This card gains 500 ATK for each "Phantom Token" you control.
So what are your thoughts on these new cards with the effects that they seem to have? Can you think of any combos or good plays with the cards? What Decks will you use them in? What do you expect their price and rairety to be? Most importantly how do you think these cards will effect the meta if at all?
_________________
WAR UNKNWON